The Answers to Your Questions About Social Media Marketing for MLMs
Social Media Marketing
Social media seems like it was made for Multi-Level Marketing (MLM). After all, both are rooted in connecting with others and building a community of people who share the same interests. But, MLM companies have been around since the 1930s. Facebook didn't come along until 2004. With the rapid evolution of technology and the many different forms of social media over the last 15 years, it's no wonder many direct selling organizations are still learning how to make the most out of social media marketing. 
If you're asking questions like, "Are we on the right social platforms?" or "What's the best way to engage potential customers via social media?" Or even, "Does social media marketing work?" You've come to the right place. Here are the up-to-the-minute answers to those questions to help ensure your company is making the most out of its social media marketing opportunity.
Does social media marketing work for MLMs?
The short answer: Yes.
For network marketers who succeed based on expanding their networks from the people they know to the people those people know (and then to the people those new people know and so on), social media is an ideal vehicle to reach and engage potential customers.
Social media is a driving force behind most of today's purchase decisions. Eighty percent of consumers start their buying journey in the form of shopping inspiration and product discovery via a social media platform. That's up from 58 percent in 2017.
With social media's heavy influence on shopping, establishing a presence for your brand on social media is a must. But which platforms? And what kind of presence do you need? Let's break it down.
Are we marketing on the right social platforms?
Facebook is the social marketing channel of choice, by far. But others are gaining ground. Determining the "right" social media platform depends on your business and the target audience you are looking to engage. That said, here's a look at the options.
By the numbers, 52 percent of consumers are likely to buy from you on Facebook. Shopping via Instagram, Pinterest, Twitter, YouTube, Snapchat, LinkedIn, and Reddit combined adds up to 48 percent. But don't make your judgment solely on the numbers. Facebook is the largest social network, and it's had more time to figure out how to make digital marketing work. Instagram is showing the biggest bump in influencing product discovery – +18 percent in two years – with 48 percent of buyers finding products there. And Pinterest is also making strides, with 28 percent of buyers discovering products on its channel, compared to 22 percent two years ago.
There's an ever-growing list of social media platforms out there. Dig in and determine where your target customers are hanging out online. Companies who succeed in social media marketing don't try to be everywhere. Instead, they pick the two – maybe three – platforms where they know their potential customers are, and they go all in.
Here's a high-level look at the top contenders.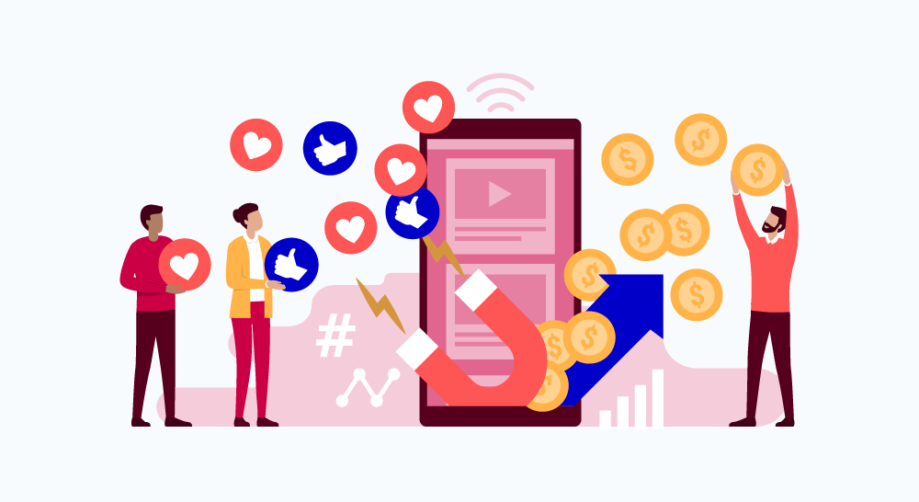 For MLMs, social media marketing objectives are focused on building and engaging a community of customers. The choice of the platform is only part of the equation. What you do once you're there is critical.

What's the best way to engage potential customers via social media?
MLMs have three primary objectives for social media – and they're all about interacting with customers and potential customers to build relationships.
Expand reach: Social media enables the brand and its representatives to interact with people all over the world without spending more resources and time on travel and in-person events. Sharing educational content and videos, as well as invitations to events (both in-person and virtual), benefits from the multiplying power of social media. Along with organic reach, all platforms enable paid advertising to further expand who sees your messages. And, when you thoughtfully align your social media strategy to the platform's audience, tone, and format, you can instantly increase your return on investment.
Strengthen relationships: As your reach increases, so does the importance of maintaining your connection with an ever-growing network. It can't always be about selling. By creating a balanced mix of messages that blend communications, educational content, and marketing, the relationship feels more personal and less transactional. MLM organizations can help ensure the balance – and maintain brand consistency – by providing a content library of turnkey posts for representatives to leverage.
When it comes to social media, the secret lies in how you engage. Whenever people comment or share your posts, respond. It's these personal interactions that will take your social media impact to the next level.
Build your brand: Having a social media presence is no longer a "nice-to-have." It's a must for MLMs looking to bolster awareness and reinforce key brand messages. Establishing a community via social media builds trust and authority. To do this successfully, focus on creating highly relevant content tailored for your audience and posting frequently.
While you can achieve social success organically, you can also accelerate the impact of your content through paid advertising on your primary social platforms. The investment pays off in the form of increased followers, attendance at live events, and content shares. Nine in ten marketers report they see a positive return on investment from targeted social media advertising.
#MLMMarketingSuccess: Having a social media strategy pays off. Wayroo is designed to help MLMs optimize social media to build awareness, drive traffic to your replicated web pages, and increase attendance at live events. To learn more about what Wayroo can do for your business, contact us for a demo today.