Wayroo available soon in the app store for all sellers.
The perfect partner for direct selling and sales force-based organizations.
Wayroo is much more than a social selling tool or mobile point of sale, it's an enhanced communication and sales platform designed to drive revenue for small businesses and the gig economy.
Wayroo Plus is much more than a social selling tool or mobile point of sale, it's an enhanced communication and sales platform designed to drive revenue for direct selling businesses.
Wayroo has a proven track record of success for our clients, including:
Next day sales force payouts
The easier and faster it is to get paid with wayroo, the more your sales force will want to sell. Once a customer makes a purchase and the payment is cleared, funds will land on their payout card the next day. The payout cards – which are also available to customize with your branding – can be used wherever Mastercard is accepted. Talk about brand awareness! Wayroo's advanced in-app wallet functionality provides users flexible access to and control of their funds at any time.
Wayroo provides a complete ecommerce solution, which includes customizable replicated websites. Wayroo's replicated sites give your sales force an easy-to-navigate interface so they can tailor their offering to fit their business and customers.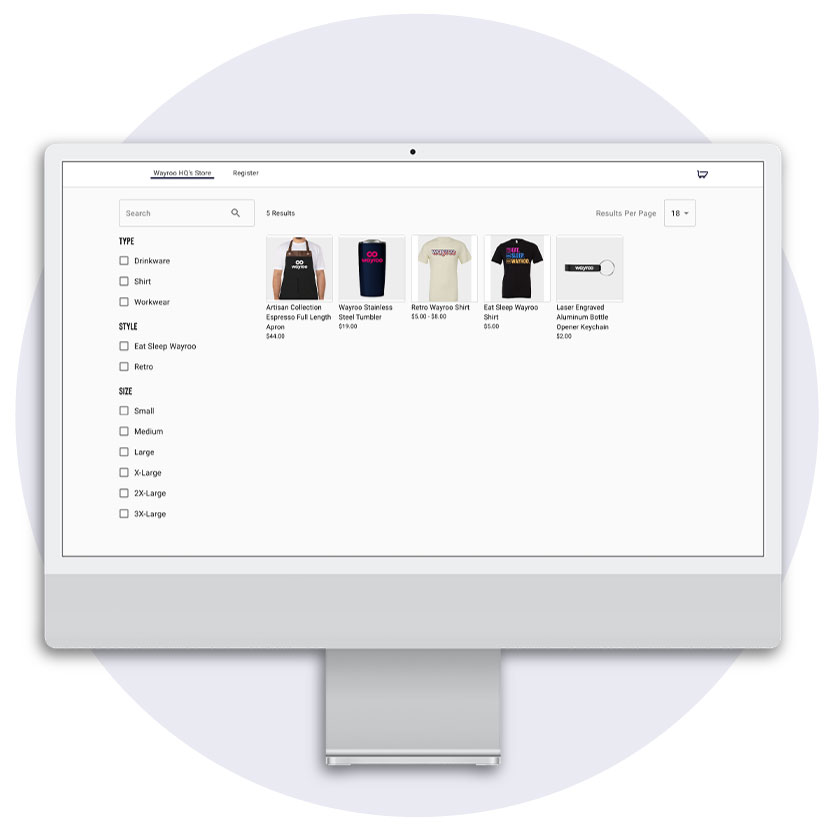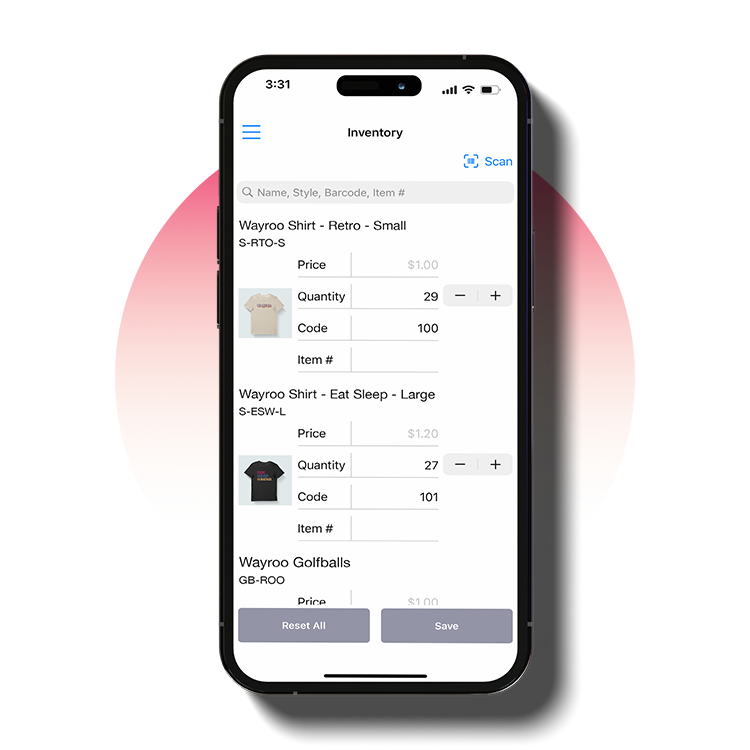 Real-time inventory management
Selling inventory has never been simpler for your sales force. Real time inventory management powered by a powerful integration to your back office software provides insight into your sales force's activity while controlling pricing, brand standards and the selling process. Instead of manually loading inventory and associated content, sellers simply select a wholesale order when it arrives and confirm receipt of the items. All items and content (including corporate images, pricing, etc) then automatically update and they are ready to sell. The integration and process saves time and allows reps to focus on growing their business.
Secure payment processing
Wayroo offers fast and reliable payment processing solutions, including contactless payments like tap-to-pay. With Wayroo's continuous product development, your business can always stay up-to-date with the latest and most secure payment technology. This ensures that your customers can enjoy a seamless and hassle-free payment experience, which can help increase customer satisfaction and loyalty. Wayroo's commitment to innovation and reliable payment processing makes it an excellent choice for businesses looking to offer their customers secure and convenient payment options.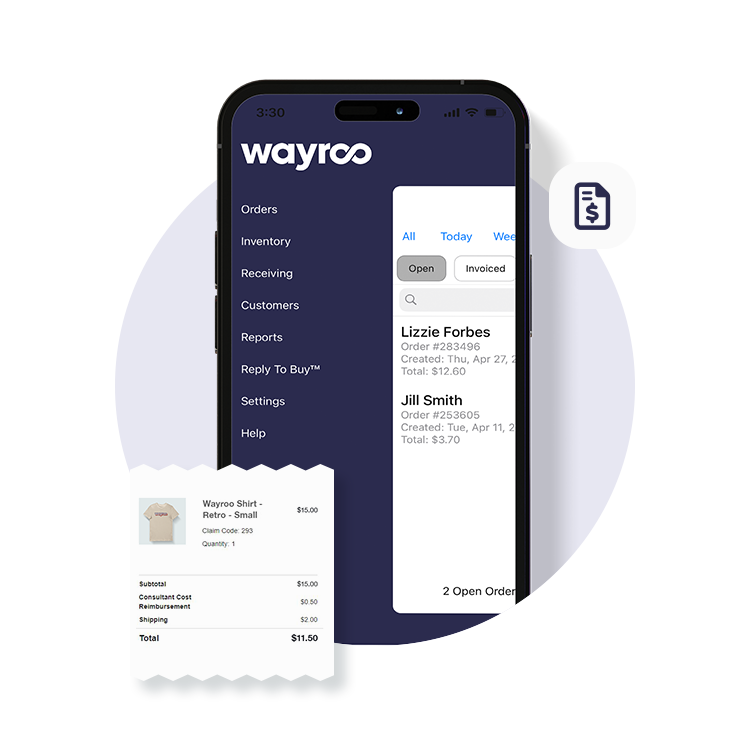 Mobile point-of-sale and Invoicing
Sellers can also easily sell items anywhere to anyone – in-person or online. Once an order is created, sellers have the option to accept in-person payment or generate an invoice to send to the customer to pay at their leisure.
Add it up. Wayroo saves direct selling organizations real money on wholesale orders via our spendback feature. When sellers use their Wayroo card to purchase additional wholesale inventory, those transactions are processed offline, which eliminates over two percent of wholesale processing fees. This money can be significant and goes directly to the bottom line.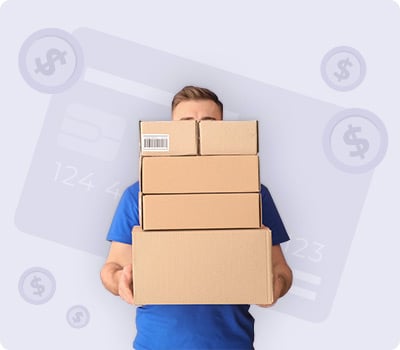 Optional Sales tax compliance
& Reporting
More than half of the 50 states require direct selling organizations to remit sales tax on behalf of their sales force. While many direct selling companies have established sales tax collection processes, Wayroo provides options that increase accuracy thus reducing liability. We automatically and accurately calculate the sales tax on both retail and invoiced sales by geolocating in-person transactions or applying local rules to invoiced (shipped) transactions. In these cases, Wayroo collects and transfers sales tax to your direct selling company partners based upon the rules of the jurisdiction where every Wayroo transaction occurs. All data on Wayroo transactions is available to your partners for simple reporting.
Social Selling: Reply To Buy™
Wayroo's Reply To Buy™ feature allows Wayroo users to sell where their customers are … on social media!  By leveraging the power of Facebook Live and Facebook Messenger, Reply To Buy™ is a messaging based live selling system that simplifies the buying process for both sellers and buyers. Reply To Buy™ leverages Wayroo's inventory management, customer management, invoicing/payment, and shipping capabilities, ensuring a sale made on Facebook is handled the same as other Wayroo sales.
Integrated shipping further simplifies the order fulfillment process by forwarding necessary order data to Wayroo's shipping partner, Shipping Easy. This automatic transfer of data and creation of shipping documents is yet another massive time saver delivered by Wayroo.
Wayroo's Open Application Program Interface (API) allows approved integration partners the ability to securely connect their application to the Wayroo platform. This feature provides a self-directed, simple and fast route for Wayroo development partners to extend the features and functionality of Wayroo to their application.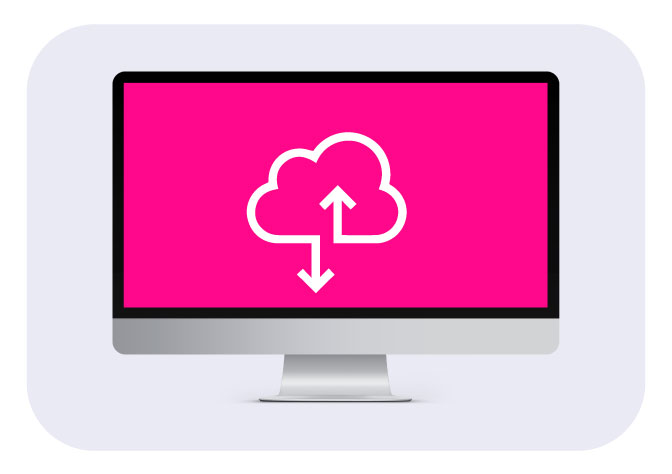 With a diverse background in corporate leadership and social selling, Tara Renze's expertise and passion shine through in this testimonial. As an author, positive intelligence expert, entrepreneur, and speaker, she understands the importance of efficiency and effectiveness in managing a successful business. Wayroo's Reply To Buy™ tool has become an essential part of her selling platform, allowing her to focus on her core business of helping others level up their success.  And don't forget to check out Tara Renze's inspiring book, 'Be Who You Came To Be,' which further embodies her dedication to living a purposeful life.